How we can help…
Security architecture and design
We can provide expert architectural advice right from the start of a project on:
Hardware (including electronic component selection and PCB layout)
Software
Communications and networks
We can also act as an independent reviewer following your internal design, where we can provide the much-needed security angle.
IoT security vulnerability assessment
With our extremely deep technical knowledge, we can help review the security of your products to identify security gaps and recommend fixes. We are capable of reviewing:
Silicon designs (to the RTL level)
Hardware (e.g. board designs, processor selection)
Firmware / software (including high-assurance software with reverse engineering, side channel and fault attack countermeasures)
Communications (including use of wireless networks such as BLE, WiFi, 5G, NB-IoT, LoRa, etc.)
Cryptography and key storage and management (including side channel and fault attack countermeasures)
We work at both the component level (e.g. a device) and the system level (the whole end-to-end IoT product).
Security regulations and guidelines
We take the latest IoT security and privacy legal regulations, proposed regulations and guidelines into account. These vary considerably from market to market and their rapid pace of evolution is often difficult for companies to understand and track.
For the consumer market, we can ensure your implementation meets certification schemes and emerging standards such as those from IoTSF, UL, etc. and are ready for new legislation and expected IoT security regulations that are likely to emerge in the near future.
Cerberus is an IoT Security Foundation founding member.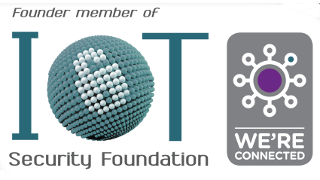 For the medical market, we can ensure that you are compliant with the cybersecurity requirements of the new Medical Device Regulations in the EU and cybersecurity guidelines from the FDA.